Views: 312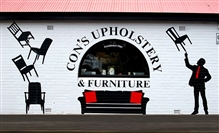 Cons Upholstery
Category: Trades and Services
Cons Upholstery was established in 1983 from humble beginnings, with just myself and a part time machinist. Since then we are proud to say we have grown, training 2 apprentices to become fine tradesman. A third apprentice is being taught at present, while we also have a permanent machinist.

I pride myself in teaching my staff to be the best they can be in the art of upholstery, and they feel the same asI do.

In giving the customer exactly what they want, we make sure when they receive their furniture it has exceeded all expectations. We upholster in traditional methods where needed and use quality materials throughout the work we do.
Area of operation:
South Australia
---

088274****

8:30am - 5:00pm Mn-Fr

...senet.com.au

410-412 Goodwood Road
Cumberland Park SA 5041
---
Send a request to
Cons Upholstery
Be the first to write a review