Views: 736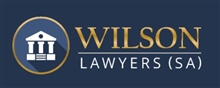 Wilson Lawyers (SA)
Category: Lawyers and Legal Advisors
Tarryn Wilson founded Wilson Lawyers (SA) in 2018.

Tarryn has a diverse range of legal experience, having worked in private practice, public legal office (government) and as an In-House Lawyer. Tarryn has focused her current legal practice on Wills & Estates Law, Property Law, Contract Law and Civil Litigation.

Tarryn was first admitted as a Barrister and Solicitor of the Supreme Court of the Australian Capital Territory in 2014, then subsequently to the Supreme Court of South Australia in 2015, and the High Court of Australia in 2016.

Tarryn has appeared on a range of legal matters in various State and Federal tribunals.
Area of operation:
South Australia
---

041591****

By request

...wilsonlawyers.com.au

Judith Drive
Athelstone SA 5076
---
Send a request to
Wilson Lawyers (SA)
Be the first to write a review