Views: 160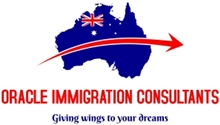 Oracle Immigration Consultants
Category: Immigration Law
If you are looking for a registered Migration agent who are well trusted for student visa applications, you need to contact Oracle Immigration Consultants. Student visa can be difficult and a time-consuming process. Our assistance helps our student visa clients to simplify their student visa application process. At Oracle Immigration Consultants, we have education agents who help you choose a university or a trade course keeping in mind your objectives, career, and PR goals. We represent hundreds of universities and trade colleges across Australia thus providing you a variety of study options such as degrees and vocational courses. We also help you with credits and exemptions from previous studies and help you with scholarships resulting in less fees and financial burden of your studies. We have also helped clients all over the world with study visa rejections and help them with the grant of their study visa.
So, why wait, pick up your phone and contact us at Oracle Immigration Consultants. Certified, honest consultants to suit your study visa application budget.

We also offer visa services for partner visa, 485 Visa, Resident Return Visa, Parent visa, Aged Dependent Visa, Carer Visa, 408 Visa, Covid Visa, Training Visa, 190 Visa, 189 Visa, 491 Visa, 482 Visa, Prospective Marriage Visa and many other types of visas.


Oracle Immigration Consultants the best Australian migration and immigration experts.
Area of operation:
All Australia
---
We speek English, Hindi, Urdu, Punjabi

+6143081****

09:00 Am - 06:00 Pm Monday -Friday.

...oracleimmi.com

Suite 35, 240 Plenty Road
Bundoora VIC 3083
---
Send a request to
Oracle Immigration Consultants
Be the first to write a review