Views: 26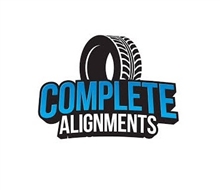 Complete Alignments
Category: Wheel Alignments
Complete Alignments is the first name in wheel alignment, offering services in Adelaide and throughout South Australia across all vehicle types. We pride ourselves on offering a highly professional service every time. Our customers know that they can consult our knowledgeable team members for best practice industry advice, tailored to their unique situation. As part of our commitment to offering premium customer service, we are determined to work to a fast turnaround time, ensuring that you endure minimal inconvenience so you can be back on the road sooner. In fact, in most cases, you'll be in and out on the same day.

Complete Alignments offers caravan repairs Adelaide across all makes of caravan and motor home. Our team, led by owner and operator John Bartlett, is passionate about providing outstanding customer service to our clients throughout South Australia. Coupling hands on experience and up to date industry knowledge, we are able to deliver a superior maintenance or repairs service for your caravan.

Our Adelaide suspension service is integral to ensuring your car is both safe and comfortable. A well performing suspension system means that all the little bumps, cracks and uneven surfaces of the road won't dramatically impact your passengers; the tyres will move over them and absorb the impact with ease. On the other hand, a suspension system is also responsible for maximising your tyres' contact with the road.

Complete Alignments delivers A, B, and C level trailer service Adelaide, with A being the swiftest service and C being a more deep service maintenance package.

Coming to visit the Complete Alignments team for all problems with car suspension in Adelaide is the right choice. We will then chat to you about what you've noticed, asking you a series of questions which will help us to get to the root of the problem. We'll also conduct a test drive so that we can fully understand the issues that you have identified.
Area of operation:
Adelaide
---

(08)8445****

Mon -Fir : 7am-5pm, Sat-Sun : Closed

...completealignments.com.au

8 - 10 Birralee Road
Regency Park SA 5010
---
Send a request to
Complete Alignments
Be the first to write a review